Product Description
Zhejing Xinghai Energy Technology Co.,Ltd specializing in the development and research, manufacturing and sales of cylindrical lithium ion battery, the mainly application inlcude the power field(Electric Bicycles battery and Electric Motorcycles battery) and energy storage field(house energy storage,back-up power supply, street lamp, UPS, mining lamp).
We supply the battery cells as follows:
2)- IFP38120L-3.2V 10Ah
3)- IFP38120HP-3.2V 8Ah(Max Pulse Discharge current:

30C

, Max Continuous Discharge Curren:

15C

, Standard Discharge Current:

5C

)
4)- IFP38140S-3.2V 12Ah
5)- IFP40152S-3.2V 15/17Ah.
7)- NCM18650-3.7V 2600mAh
8)- NCM22650- 3.7V 2000mAh/2500mAh
9)- NCM26650-3.6V 5000mAh
10)- We can also supply the battery pack according to your requirement.
Our products is authenticated with the certifications of ISO9001,ISO14001/TS16949, OHAS18000, CE, UL TUV and ROHS. welcome to access our web:
www.headway-cn.com
Headway lifepo4 38120 series:
1. 38120L : 3.2V10Ah
2. 38120S : 3.2V10Ah
3. 38120P : 3.2V8Ah
4. 38120HP(high power) : 3.2V8Ah
38120 cell can assemble many types of battery pack for you on your demand.Such as 12V, 24V, 36V, 48V and so on.
HW 38120S(3.2V10Ah) lithium ion LiFePO4 cell specs:
Items

Specifications

Nominal Capacity

10Ah

Nominal Voltage

3.2V

Maximum Charge Voltage

3.65±0.05V

End-off Discharge Voltage

2.0V

Maximum Discharge Current

(continuable)

3C(30A)

Maximum Discharge Current

(pulse)

10C(100A)

Maximum Charge Current

(continuable)

2C(20A)

Cycle Life

>2000times

Operation Temperature

-20~60°C

Storage Temperature

One month -20~45°C

Six months -20~35°C

Internal Impedance

<4mΩ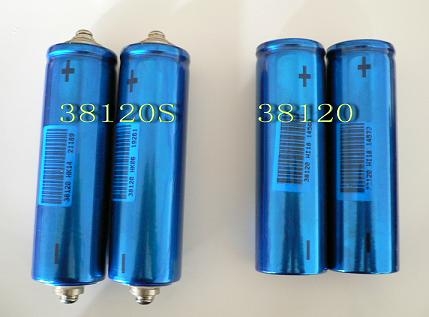 Battery pack made by 38120 cells